Medical Insurance Orlando - Medical Insurance in Orlando FL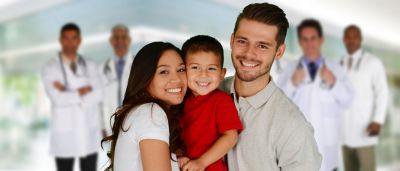 SERVING THE ENTIRE STATE OF FLORIDA WITH COMPETITIVE QUOTES, SUPERIOR POLICIES AND UNSURPASSED CUSTOMER SERVICE.
Direct Insurance Network was able to lower our insurance rates by over $240 a month while getting us better coverage. We didn't think it was possible to get cheap medical insurance in Orlando FL after shopping around, but they did it. Since then, we've switched over all of our insrance to them! - Michelle and Tim G​., Orlando Florida
You and your family may have recently been in need of health care related expense when medical insurance got in the way.
Medical insurance can sometimes be seen as an obstacle in seeking out assistance with a health care issue. Our medical insurance Orlando agency provides a service which connects you with the best medical insurance provider to fit the needs of you and your family.
Your options for medical insurance in Orlando may seem convoluted. It's important that you have an advocate in your corner to help guide you on the journey to the best solution for you.
We offer medical insurance Orlando coverage through our agency approach.
Essentially, we function as a broker that works with a number of providers to properly assess your situation and find the best solution for your particular concerns. In the case that your needs may be more involved or less involved than others in your family, we are able to find a specialized plan that helps decrease your up-front cost and allows you care in the way that you need it.
Medical insurance can often be seen as a necessary evil but we believe that this promise of coverage offers a peace of mind that pays off long term.
In the event of an emergency or urgent care, health care options will help you avoid unnecessary expenses that can uproot your lifestyle and day to day experiences. In terms of protecting your family, medical insurance Orlando coverage is the best prevention of those unwarranted expenses that pile up over time.
Being conscious of the cost associated with medical issues, the important component of medical insurance in Orlando is to help ensure you pay out the least amount throughout your life.
With the best of intentions, we all make mistakes. We are here to help you prevent making those mistakes and to help you secure your best option for medical insurance in Orlando FL.
Medical Insurance in Orlando FL
Medical insurance in Orlando FL can be a tricky thing. It can be quite overwhelming with all the choices.
You've probably researched the best medical insurance in Orlando FL and are still fealing lost.
Our medical insurance Orlando agency will work to find the best solutions for medical insurance in Orlando, Florida for you. Once you contact us, we work diligently to find the medical insurance in Orlando FL recommendations that will fit your situation and find you peace of mind for the worries you may have about all your medical issues.
There's no greater worry than that which comes from misunderstanding. Our medical insurance Orlando team is here to provide you with sound advice and counseling as we work through the steps that will help you thoroughly answer any questions you may have.
Contact us today so that we can work together in providing you with the necessary education you need to make the best decisions that will benefit you and your family long term. Our representatives are specific in providing guidance for your best medical insurance in Orlando FL.
We can be reached online, or via phone at (800) 310-2743. We are ready to serve your medical insurance Orlando needs.
We service the Orlando, Florida area and are ready to provide that service for you.
We are an Orlando insurance broker with ability to provide you with cheap health insurance Orlando FL, general liability insurance Orlando, medical insurance in Orlando FL, medicare supplements Orlando and supplemental health care in Orlando FL. Also be sure to check out our cheap car insurance in Orlando, condo insurance Orlando, homeowners insurance Orlando or property insurance Orlando.