Boca Raton & Palm Beach County Collector Car Insurance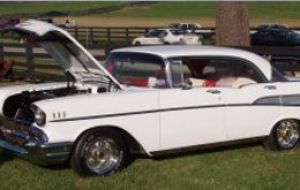 I needed very good collector car insurance coverage, and that's exactly what I found on Direct Insurance Network.
- Ralph P., Boca Raton
If you have a collector or antique auto, you want to make sure you have the right insurance coverage to protect your investment. Standard car insurance is not going to offer the right coverages for your special vehicle. Instead, you need special insurance that will take care of your vehicle in the event something happens, such as an accident, fire, or theft. At Direct Insurance Network, we have a team of agents skilled in coverage for collector cars and trucks.
Regular auto insurance would not protect you financially in the event of your vehicle being damaged or should it suffer a total loss. Classic cars are usually classified in the category of antique after the car or truck has reached 15 or 20 years of age. Collector car coverage will protect restored antique or classic vehicles, exotic autos, sports cars, or rare vehicles.
These vehicles are much more valuable because time and labor has been invested in them, but the book value would be for an old vehicle that would not rank anywhere near the amount of money invested in the restoration process. Therefore, traditional vehicle coverage will not even come close to covering your losses. For those reasons, you need to purchase Boca Raton and Palm Beach County collector car insurance.

Classifying a Collector Car
Collector cars are often older vehicles that are restored to either like new condition or modified to become a street rod or show car. Collector cars are not usually everyday drivers, but instead they are used for car shows, rallies and special events. Sure, you might want to take them out on an occasional weekend joyride, but because they aren't driven all the time, the coverage needs are different. The value of a collector car can be considerably higher than a newer model vehicle as well, so you definitely need that additional coverage to protect your vehicle investment.
We can customize a Palm Beach collector car insurance policy for you to ensure that your antique, classic, exotic, sports, or rare car or truck is properly protected in the event something happens. Here are some package options that you might want to include as part of your coverage:
•Flexible use coverage
•Agreed upon evaluations of the vehicle's value
•Special claims and repair options
•Competitive premiums - these are usually lower than a normal auto insurance policy
•Liability and damage options
•Value coverage
We have the skills and experience needed to take care of your collector car insurance needs in Boca Raton, Boynton Beach, Delray Beach, West Palm Beach and all cities within Palm Beach County.
If you are in need of Boca Raton and Palm Beach County collector car insurance, contact the experienced team at Direct Insurance Network. To get a free, no-obligation quote complete the online form. You can talk with one of our agents by calling (561) 820-8737.