Boca Raton & Palm Beach County Commercial Auto Insurance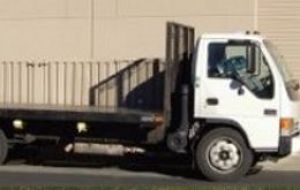 Acquiring commercial auto insurance in Boca Raton was a snap on directinsurancenetwork.com!
- Kelvin B., Boca Raton
Commercial Auto Insurance in Boca Raton and Palm Beach County
If you own a business that has vehicles, you need to make sure have the proper commercial auto insurance coverage to insure your vehicles for physical damages as well as liability coverages to handle the different amounts, situations, and kinds of usage that would not be covered by your traditional personal auto insurance policy. This is a special kind of business insurance coverage that can take care of a variety of vehicles. Sometimes this coverage is called fleet insurance, truck insurance, or commercial car coverage. Direct Insurance Network has a team of highly skilled and versatile agents who will help you assess your situation and find the best coverage for your business needs.
Why Do You Need Commercial Auto Insurance in Palm Beach County, Florida?
For the most part, if a vehicle is used in tasks that pertain to the occupation of the operator, a traditional auto policy is not sufficient. When you are using a vehicle for your business or profession, other than commuting to and from your place of work, you will need to ensure you have a commercial auto policy. Here are some examples of why you would need to have coverage through a commercial auto policy:
•If you are charging a fee to transport people or goods in exchange for payment or if your vehicle is used to perform a service, commercial auto coverage might be required.
•If you need higher limits of coverage because of your line of work, you might need the coverage offered through a commercial auto plan.
•When it comes to hauling considerable amounts of tools or equipment that add to the weight of your vehicle or if you are towing a trailer, you might need the additional coverage through commercial auto coverage.
•If the vehicles are owned by the business or partnership and the business or partnership is listed as the owner or if employees operate the vehicles, you might need to get commercial coverage to make sure you are properly protected.

What Is Covered By Commercial Auto Insurance Coverage?
While commercial auto insurance coverage provides some of the same protections as traditional auto coverage, such as liability, coverage, comprehensive, collision, medical, and uninsured motorists protection for your business. There are some differences between traditional auto insurance and commercial auto insurance coverage as far as coverages, exclusions, limits, and eligibility goes. You do need to be aware that most commercial auto policies are only for named drivers only. That means any employees that will be operating your vehicles must be listed on the policy in order to operate a vehicle.
What are some of the different coverages offered through commercial auto insurance:
•Bodily injury liability coverage
•Property damage liability coverage
•Combined single limit
•Medical payments, no-fault or personal injury coverage
•Uninsured motorist coverage
•Comprehensive physical damage coverage
•Collision coverage
Providing Commercial Auto Insurance for Palm Beach County Businesses
Commercial car insurance can be confusing, so you need to work with a dependable insurance provider who will make sure you have access to the highest quality insurance companies out there. At Direct Insurance Network, we have experience in helping Florida businesses get access to the coverage that they need at the time when they need it. We have helped businesses throughout several Palm Beach County communities as well as surrounding areas. Our clients are in Miami, Jacksonville, Boca Raton, Boynton Beach, and Delray Beach. Call us today at (561) 820-8737 to get access to the coverage that you need.