Medicare Plan F vs Plan G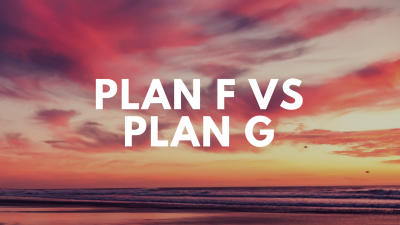 Medicare is the federal health insurance plan available to people who are over the age of 65, disabled, or in some cases, both. Most people who have access to Medicare have a Part A plan (covering hospital costs) Part B plan (covering doctors' costs) and Part D plan (covering prescription costs.) Each of these plans offers a certain amount of coverage in different situations, but may also leave the insured person with deductibles and copays.
For some people, paying those costs out of pocket is fine; they may be very healthy and not need to pay much out of pocket, or they may qualify for a program in their state which reduces their out of pocket costs. For others, however, paying these copays and deductibles, especially when they come at unexpected times, can be difficult. It could even prevent them from accessing care when it is needed. Plans such as Part F and Part G help to defer those costs.
To help patients manage these costs, the federal government allows insurance companies to offer supplemental insurance plans which reduce those deductible and copay costs in exchange for a monthly premium. The government has mandated what each plan must cover; a Part C plan offered by two different insurance companies will cover the same services. It makes sense, therefore, for clients to choose their coverage based on the insurance company itself. At Direct Insurance Network, we have years of experience offering high quality insurance products that give Boca Raton and Palm Beach County customers just the coverage they need.
Plan F and Plan G are very similar. Both plans cover:
Medicare Part A coinsurance and hospital costs, up to an additional 365 days after Medicare Part B benefits are used up
Medicare Part A hospice coinsurance and/or copayment
Medicare Part A deductible
Medicare Part B coinsurance and/or copayment
Medicare Part B "excess charges."
Blood products
Foreign travel (up to the limits of the plan.)
The primary difference between Part F and Part G is the Part B deductible. Each year, patients need to pay a certain amount of their Part B costs (doctors' bills) out of pocket before Medicare Part B will begin to pay. Part F covers the Part B deductible, meaning that customers won't have to pay for it themselves. Part G covers all the above benefits, but not the Part B deductible.
For some people, this is fine; they can work out an arrangement with the doctor's office to make payments on the deductible amount, or they don't see a doctor very often, and don't anticipate using up that amount. For others, needing to pay that Part B deductible would be a financial hardship, and it may be worth the extra premium amount to know that the deductible is covered.
If you're not sure whether a Part F or Part G plan would be more appropriate for your situation, contact Direct Insurance Network today. Our agents are ready to help our Palm Beach County customers find the right insurance balance for your needs. Reach out to us today for a free quote.