Luxury Homeowners Insurance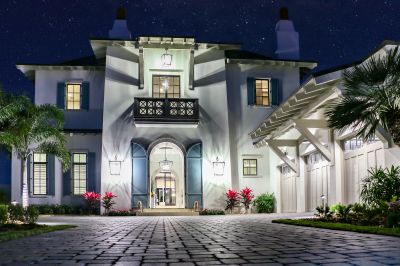 SERVING THE ENTIRE STATE OF FLORIDA WITH COMPETITIVE QUOTES, SUPERIOR POLICIES AND UNSURPASSED CUSTOMER SERVICE.
Our waterfront home insurance rates jumped up in price and Direct Insurance Network came to the rescue with amazing coverage and phenomenal customer service. We're very happy. Joan and Albert L. (Boca Raton)
The biggest responsibility for a homeowner is to protect their home. Home insurance policies can aid and assure protection, but not all homeowners insurance policies will give you what you are looking for. For your special needs, you may need luxury homeowners insurance.

What Is Luxury Homeowners Insurance?
Owning a luxury home is not the same as owning a standard home. With luxury comes great value and risk to that value. Considering luxury homeowners insurance can help you cover repairs and rebuilding to keep your luxury home in its best shape possible. A standard homeowner's policy is not sufficient for your luxury home. Upon reimbursement, you can come across gaping differences in the coverage.
To make the most out of your insurance, you need coverage that caters to the needs of your luxury home. Standard homeowners insurance covers basic requirements that might not be enough for your home and luxury items you have collected over the years. Direct Insurance Policy can be your source of options!

Jewelry Insurance
A luxury home can have precious jewelry that is both priceless in terms of sentiment and valuable in terms of money. The luxury home insurance includes protection of jewelry so that you can rest assured that your jewelry is in safe hands.

Dwelling Coverage
Damage to your luxury home can take your sleep away but if you have luxury home insurance, you don't really have to worry about your dwelling or other structures. A luxury home insurance policy can help you keep the structure safe.

Collectibles
If you are a fan of collecting highly valuable collectibles, it is crucial that you protect them at all costs. Protecting your collectibles with a luxury home insurance policy is the way to go. Your collectibles should be safe under your roof and an insurance policy that caters to luxury items can ensure that.

Replacement Coverage
The replacement coverage entails the coverage for new items that can replace your damaged items. This coverage can include items like furniture, jewelry, and a lot more.


Why Do You Need Luxury Homeowners Insurance?
If you are wondering whether you need luxury homeowner's insurance policy, you need to ask yourself if you can let go of all the valuables in your home. We are sure that the answer is going to be negative. Unfortunate situations arrive unannounced and preparing for them is much better than suffering the consequences.
Direct Insurance Policy suggests to safeguard all the items you hold near and dear, and getting a luxury homeowners insurance policy is the best thing you can do! Don't let unfortunate circumstances take away your valuable possessions.

How Can Direct Insurance Network Help You?
If you are looking for an insurance policy that will safeguard your luxury home, come to Direct Insurance Policy! We can help you connect with several insurance providers. We are independent insurance agents that bridge clients with the insurance company that can fulfill all your needs effectively.
We work with you and for you! Our aim is to help people secure their belonging and get the best insurance policy from a plethora of options. With our experience and knowledge, you are sure to get the best deal with the best benefits. Reach out to us today and our representative will cater to all your needs expertly! Sign up for a one on one consultation and we will help you find the best solutions.