Florida Golf Cart Insurance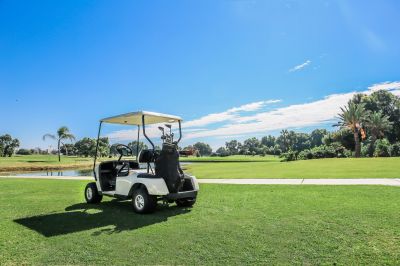 Golf carts are an exciting and cost-efficient way of getting around. No doubt, they provide conveniences for when you need to visit the grocery store or to have some tee time. But they can be harmful, and that is why a golf cart insurance is a type of insurance that covers misadventures that you may cause as you use your vehicle.
What does a Golf Cart Insurance Cover?
Golf cart insurance pays for damages that can happen to the body or property of the involved people. At Direct Insurance Network, we have agents who are well-versed in the intricacies of golf cart insurance to ensure that you get the right insurance that covers you in event of any mishap.
You may be pondering if golf carts can cause enough accidents to necessitate the procurement of an insurance plan.
According to the Fatality Analysis Reporting System, developed by the National Highway Traffic Safety Administration, 130 golf cart deaths were registered between 2013 and 2018 amongst other regrettable woes. Golf carts are machines that must be taken seriously.
Generally, golf cart insurance will cover:
Property damage: this provides coverage for the destruction of someone else's property like fences and structures.
Physical harm: this provides coverage for bodily harm on someone else, e.g., in the event of a crash involving passengers and bystanders.
Collision charges: this refers to the repair or the replacement of the golf cart when it collides with another vehicle regardless of who the defaulter is.
Who Needs Golf Cart Insurance?
Even when your homeowner's insurance is suitable for general use, you need a special golf cart insurance plan for some unforeseen circumstances. Here are some user characteristics that may require you to seek coverage.
Those who drive on a golf course or on your own property.
Those who use a golf cart for some street driving and may have safety features like seat belts.
Those who use an all-terrain vehicle in the neighborhood, on the streets, as well as on the golf course.
What Does a Golf Cart Insurance Cost?
The cost of a golf cart insurance depends on the level of coverage you have decided for your golf cart. For example, a golf cart with light refurbishments will have a different policy than a heavily refurbished cart suitable for the streets.
Navigate golf cart insurance the right way
At Direct Insurance Network, we leverage our extensive network of insurance providers to deliver great policy rates and mouthwatering insurance coverage for your golf cart. If you have an existing coverage, our brokers can perform a risk evaluation to pinpoint any issues with your existing golf cart insurance coverage.
Get an accurate insurance quote and become a part of our success story by visiting our agency at https://directinsurancenetwork.com/ to find out more about eligibility, enrollment, and premium rates.