Palm Beach County & Boca Raton Motorhome / RV Insurance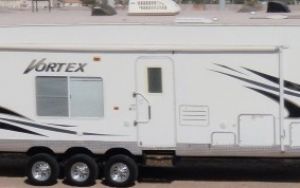 Motorhome or RV Insurance in Palm Beach County and Boca Raton
If you have an RV or motorhome, you know that it is much different than a traditional passenger car or pickup truck. You shouldn't make the mistake of trying to get proper coverage on your recreational vehicle through your traditional auto insurance plan because after all, your RV is not a traditional vehicle. At Direct Insurance Network, we work with all the leading insurers so we can provide you with the coverage that you need at a price that you can afford. Our agents have helped RV enthusiasts throughout greater Palm Beach County for years. While you can worry about the outdoor and taking off on the open road, let us worry about finding the right insurance.
Complete Coverage for Your Motorhome or Recreational Vehicle
When it comes to making sure your motorhome is covered, we offer a full-line of coverage. Regardless of the size, kind or value of your recreational vehicle or the number of RVs that you own, you can count on Direct Insurance Network for all your insurance needs. You can count on us for all the coverage that you need at a price you can afford. Whether you drive your RV regularly or just on occasion, we can make sure you are properly protected.
We offer motorhome insurance coverage for:
•Class A Motorhomes
•Class B Camper Vans
•Class C Motorhomes

The Source For Motor Home Insurance in Florida
Coverage needs can vary significantly. Just because you own a motorhome doesn't mean you need the same coverage as someone else with a similar recreational vehicle. Your coverage needs can vary significantly depending on the kind of motorhome, its condition and year of manufacture, and how you use this vehicle. We take several things into consideration when recommending your coverage. Here are some details that we need to know when helping you choose your insurance coverage:
•How often do you use your RV?
•Are you an occasional camper or a road warrior?
•What do you have inside your RV?
•What kinds of furnishings does it have?
•Do you have antennas or awnings?
•Where do you leave your RV parked?
These details and a few other specifics will help us get you the right coverage to protect your investment. We work with all the leading RV insurance providers. Contact the team at Direct Insurance Network today so you can get a free, no-obligation quote for protecting yourself and your RV in the event of an accident or loss on the roads or while camping. Don't wait until it is too late, you never know when you could be facing damage to your recreational vehicle. Call on the team that more people have come to trust in Florida for their motorhome insurance needs. We serve clients in Boca Raton, Daytona Beach, Delray Beach, Boynton Beach, Miami, Lake Worth, Lantana, Wellington, Jacksonville, Palm Beach Gardens, Jupiter and other Palm Beach County communities. Speak with an agent by calling (561) 820-8737 today.